Open Source Ad Server vs. Hosted Ad Server — Which is Better?
If you're a marketer looking for the best ad server to run your ads, you might have wondered if you should choose an open source or hosted ad server.
But before that, what are ad servers really?
You may have wondered how ads appear across the websites, apps & platforms you visit. These are usually publishers, who provide ad space for advertisers to show ads and target their audience. Behind this is the ad placement server, which serves the ads to a target audience.
Ad servers play a crucial part in digital advertising. It allows advertisers to manage, test, optimize, and replace ads that they serve.
Let's go through what an ad server does.
What Is An Ad Server?
An ad server is a technology platform used to manage, serve, and track ads.
Used typically by advertisers (although there are ad servers for publishers too), it helps them target and serve ads to multiple platforms, including ad networks and DSPs – all while tracking & optimizing under a single advertising platform.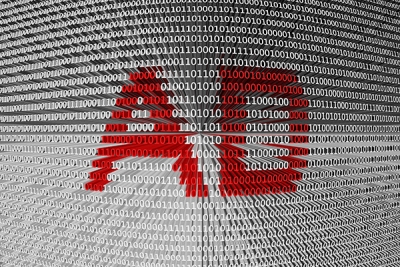 Imagine the world of digital media buying without ad servers.
For an ad campaign, a media buyer would have to manually contact a publisher to negotiate, create compatible ad formats and sizes, insert ads, and track and optimize. While this approach might work if the ad request requirement was to serve ads on one or two sites, imagine the workload if the need was to serve ads on hundreds of sites at once – each publisher with their creative ad requirements and measuring capability.
Enter the ad server to solve this problem.
With an ad server, the advertiser simply uploads his or her ad, social media, Facebook, or video ad, sets targeting rules into the ad network, and serves on multiple websites and apps using a single "ad tag." Then, as the campaign runs, they measure and optimize the performance of their ads right in the ad server dashboard in real-time without having to contact every publisher for changes.
What Is An Open Source Ad Server?
There are two types of ad servers available, each with their strengths and weaknesses. Let's go over what an open source ad server is first, so we can make a self-hosted vs. open source ad server comparison.
An open source or self-hosted ad server is ad server solutions that you host on your own server. While the server script or system is usually free these days, you have minimal options when it comes to open source ad servers.
Pros
Free or cheap to use. Most open source ad serving systems are free.

You have full customization flexibility over them.

You own 100% of the data collected and can do anything you want with it.
Cons
While the ad serving software usually has a free version, you still need a server to run the ad software, which could get expensive.

You'll need a dedicated technical team to work on updates and fix technical issues regularly.

Ad serving & tracking reliability may be an issue with some open source ads or open source ad servers.

An open source software may lack features that you need. You would have to build the features yourself or buy expensive plugin scripts as add-ons for your ad server open source. 
What Is A Hosted Ad Server?
A hosted ad server essentially means an ad server software that is maintained or sold as a platform by an advertising network company. You simply subscribe and start using it without having to do much technical setup.
Hosted ad server companies usually have a dedicated support team that you can depend on for help, customization, and updates.
Pros
There is no need for any technical setup. Just sign up and start using it.

Support: Most ad server companies have 24/7 support and will be quick to help if any technical issue arises.

Updates and bugs are taken care of for you. Most of the time, you won't even notice the updates made by ad serving companies to cater for the changes in the AdTech landscape.
Cons
Pricing wise, hosted ad servers usually cost more. Typical billing structures for hosted ad servers are pay-per-use and subscriptions.

Customizations could be limited with some hosted ad servers, depending on the vendor you choose.

The data you gather from ad campaigns are stored within the hosted ad server. Some advertisers are sensitive to allowing 3rd party ad servers to store their data.
Which Option Is Better And Why?
The problem with open source ad servers is that they barely get updates and are often buggy – something you want to avoid when running a critical advertising campaign.
You may perceive that choosing an open source ad server means extra savings, but don't forget the other costs involved. For instance, to set up and maintain an ad server, you would need to hire a team of engineers. And while mobile ad server scripts or systems may be free, you still need to invest in a capable server to host the ad server, which isn't exactly cheap, either.
This is why most advertisers, marketers, and media buyers turn to hosted ad servers. Besides its reliability and guaranteed uptime, advertisers see choosing hosted ad servers as a smart decision as they can entirely leave the technical work to the ad serving company and put more focus on the actual media buy and campaign strategy.
Top 4 Best Hosted Ad Servers
Here's a list of hosted ad servers to consider for your next ad campaign.
1 – UpRival Ad Server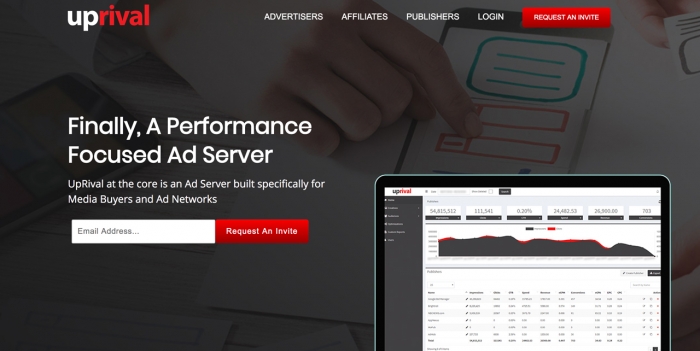 UpRival is a leading advertiser-centric ad server, built to address media buying challenges – such as reporting accuracy, GDPR compliance, advanced targeting options, and the ease of making the latest ad formats that perform.
Setting up an ad campaign in UpRival is quick and should take you no more than two minutes. Whether you're serving display, native, or video ads, you'll be pleased to find performance-ready ad templates, which you can use immediately.
When choosing an ad server platform, it's essential to look at its compatibility with major ad exchanges and DSPs. This is where UpRival shines, where it's Google & Oath certified, among other major DSPs.
There is also a white-label solution that allows you to rebrand the entire ad serving platform with your logo, color, and domain – making it a top choice for ad agencies who want to present reports to their clients with a branded ad server.
Pros:
Extensive Targeting: Target your ad campaigns by country, city, device, browser, IP, and even set custom targeting variables.

All-in-one platform: Create, serve, track, and optimize your ads under one consolidated platform.

Simple Pricing: You get charged based on a subscription model, with no hidden cost.

Cross-device support: The same ad tag you create works cross-device and platforms.

A/B & Multivariate Testing: Advanced split-testing by ad networks, ad groups, and more.

Real-Time Reporting: Use a reporting dashboard with advanced filtering to monitor and optimize your campaigns in real-time.

Multiple Ad Formats: Display, native, rich media, HTML5, video ads & landing pages.

Performance-ready ad templates: Take the guesswork away from your ad creatives and use ad templates designed to work simply.

3rd party Integration: Easily integrate 3rd party analytics and tracking tools to UpRival.
Cons:
Viewability tracking: Currently, there is no viewability tracking tool built-in UpRival. You'll have to use a third-party ad viewability tracking tool.

No creative team: If you're planning on using rich media ads or highly designed ads, you need to create them yourself or find a 3rd party ad server rich media vendor.
2 – OpenX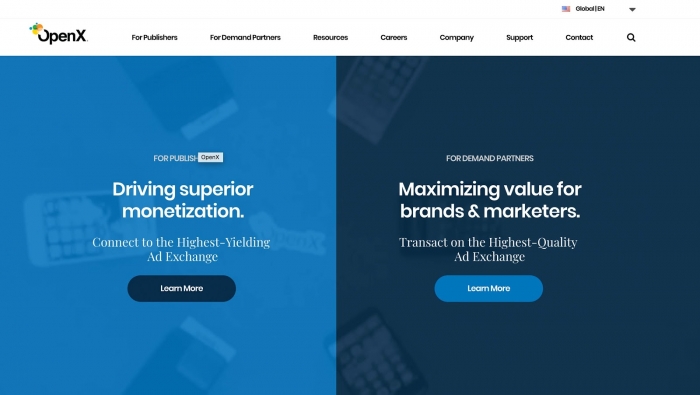 The OpenX ad server is a pricier solution that aims more towards publishers, with a minimum of 10 million impressions per month. More than just an ad server, it's also integrated to OpenX ad exchange where advertisers can buy ad inventory, and publishers can sell their unsold inventories.
OpenX channels feature the ability to do micro-targeting, concise campaign reporting, and allow users to access up to 12-months of historical analytics data.
Although the OpenX source has 24/7 support for customers, it's not exactly an ad server for those who are just starting up. There is a setup fee of $1,000 and a monthly minimum bill of $1,200 to use the OpenX market.
Pros:
Detailed Reporting: You'll find one of the best reporting capabilities in OpenX, with proper filtering.

Ad Exchange: OpenX technology is more than an ad server — it is now an open source ad exchange through the many publishers it has powered.

24/7 Support: There's 24/7 support, where you can get quick help.

Real-time Guaranteed: As an advertiser, you can buy a guaranteed amount of ad impressions, and as a publisher, you get specific ad revenue.

Ads Formats: The OpenX open source has plenty of ad format options, from image banner ads, flash, HTML, rich media, video & in-stream video ads.
Cons:
High Pricing: OpenX ad serving is reserved more towards bigger publishers who need a regular or video advertising server.

Difficult to setup: You need to request a user account and wait for an account manager to qualify and contact you before you get started.
3 – Avid Ad Server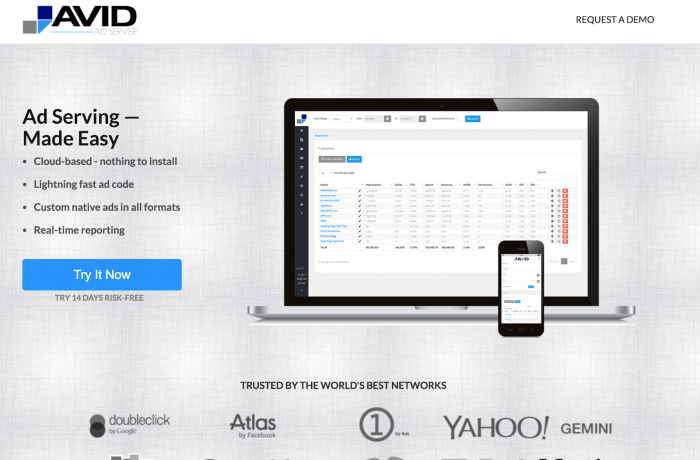 Avid is an ad management platform and ad server for advertisers, publishers, and affiliate marketers. It guarantees a 99.9% uptime, easy setup, support for HTML, and a rich media ad. If you're an agency, you'll be pleased to find that Avid is also a white-label ready platform.
There is support for mobile ads in mobile web & in-app environments, with highly detailed targeting & tracking. You can set targeting options to target your ads such as geo-location, browser, device, IP address, mobile carrier, day-parting, and more.
Where it falls short is in ad format & creatives, where there's no built-in ad creator. Instead, Avid offers downloadable ad templates that you can use and replace with your own creative designs and code.
Pros:
Targeting Capability: Has all extensive targeting capabilities that would be needed for effective ad campaigns.

99.9% uptime – A golden uptime standard with most ad servers.

Free Training – If you're new at ad serving & management, they have a team to help.

Integration – OpenX has seamless integration set with large ad exchanges and DSPs, including Google.
Cons:
No Free Trial: You have to pay to use it, but alternatively, you have a 30-day money-back guarantee.

No GDPR: No GDPR compliance is mentioned on the website.

No responsive ads.
4 – Google Ad Manager (Formerly DFP & AdX)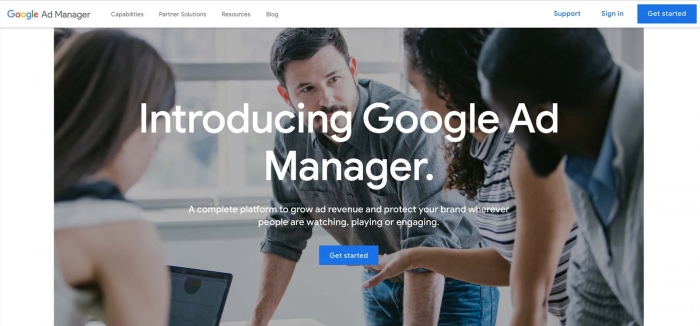 Google Ad Manager is a unified ad platform of what used to be DoubleClick for Publishers (DFP) and the DoubleClick Ad Exchange. This unification (June 2018) was made along with the rebranding of Google Adwords to Google Ads – an attempt to simplify their solutions for advertisers & publishers.
Back then, DoubleClick used to be an ad serving platform for publishers to sell ad inventories. Moving into an ad landscape where Google believes all media buying should be programmatic, they introduced Ad Manager. They integrated everything under a platform, thus breaking away from standalone ad servers and supply-side platforms (SSPs).
Google Ad Manager is made for publishers who want to monetize through Google ad exchanges on placements where users are engaging, such as AMP pages, mobile games, live streams, connected TV and YouTube, and Apple News.
Pros:
Free to use: Google Ad Manager is a free ad server solution for publishers.

Integrated solution: It's an ad server and SSP (supply-side platform) combined.

Revenue Optimization: Provides great control for publishers to choose who has access to their inventories.

Multiple Platforms: Google ad manager is a single platform to serve, measure, and optimize ads wherever potential audiences are, including connected TVs, Accelerated Mobile Pages (AMP), mobile games and other apps, and platforms like YouTube and Apple News.

Brand Safe: The platform protects publishers from ad fraud, inappropriate ads, and annoying ads that might hurt user engagement.
Cons:
Made for publishers only: It is not exactly a con, but note that Google Ad Manager is not an online advertising ad server. It is a publisher ad server.

Google Networks only: When you use Google platform, you limit your inventories to the networks under Google only. Understand that one of the reasons marketers use ad servers is so they can run ads on multiple ad exchanges and DSPs at a single time. 
Open Source Ad Servers
As mentioned earlier, you don't have as many options for open source ad servers these days, probably due to fewer marketers using them. Here's a popular one that has been around for some time:
Revive Ad Server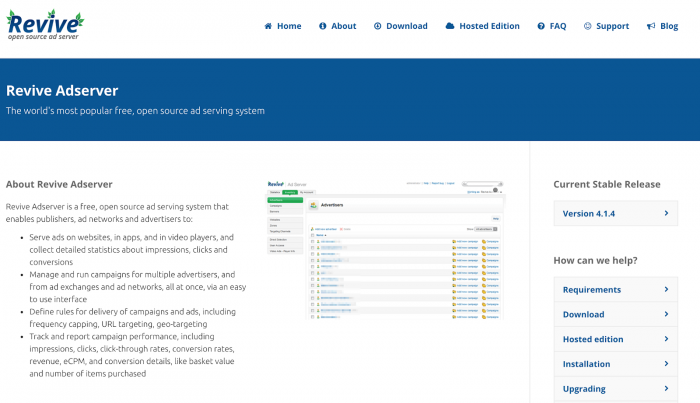 Revive Ad Server is made for advertisers, publishers, and ad networks. It's, in fact, an ad server script that allows you to manage multiple ad campaigns at once, featuring basic targeting options such as frequency capping, geo-targeting, and URL targeting.
A reporting dashboard is included within the ad serving script. You still have to purchase plugins to add sophisticated reporting, such as reporting on country statistics, map statistics, or frequently viewed banner lists, to name a few.
While the Revive ad unit is free to use, its ad serving options utilize vast server resources, so you will need to get a server with enough space and bandwidth limit, and ensure all technical requirements are met to ensure smooth ad serving.
On another note, Revive has announced that they will be rolling out their own hosted ad server version which, was due to launch in Q4 of 2018. However, as of the date of writing, we've not seen it launched yet, except for a Revive ad server demo.
Pros:
Free: Revive ad serving system is free to use, and there are no ad serving fees.

Data: Data collected from your ad campaigns will be stored on your own server, so all data is entirely yours to control.

Standard reporting: From impressions, clicks, click-through rates, conversion rates, revenue, eCPM, and conversion details, like basket value and number of items purchased.
Cons:
Technical setup: Will require lots of technical setups and is best for more prominent companies that have a dedicated professional technical team and resources to host the ad server system.

Filled with bugs: Not only is the system resource hungry, but it can be buggy as well. Prepare to work on daily troubleshooting and updating.

Plugins: Need extra ad serving features like VAST or VPAID? Unless you can build them yourself, you'll need to purchase script add-ons. 
Conclusion
You should have a good idea when choosing between an open source ad server or a hosted ad server. Given the flexibility, affordability, and peace of mind you get, we would advise you to go for a hosted ad server.
That being said, there are still some merits in choosing to set your own ad server up with an open source ad system.