Email Ad Server
With so many constraints around email monetization, UpRival provides the ability to create and serve dynamic ads in all of your email campaigns to maximize your revenue.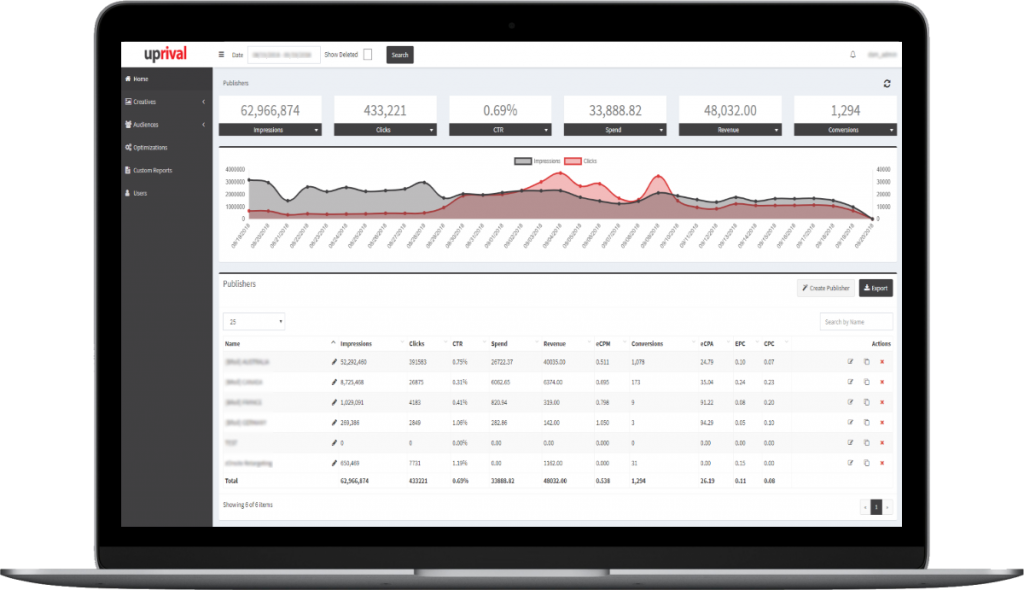 Deliver Winning Ads to Your Email Newsletter
Advanced Targeting Options
Ads That Engage Like Content
Native
Access ad formats and premium content that adapt to the way people want to engage.
Video
Get the most play out of your campaigns with user engaging video experiences driven by our end-to-end solutions.
Mobile
Tap into innovative technology and content that fluently connects brands and consumers with ad experiences optimized for the mobile environment.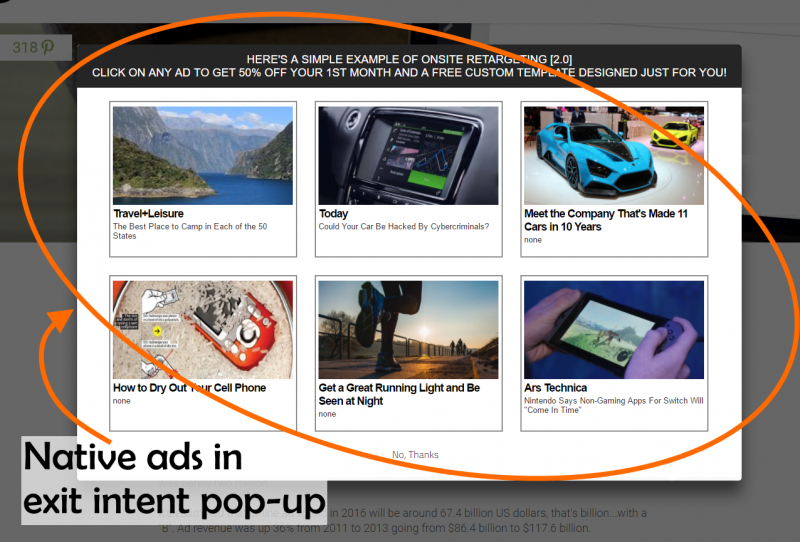 Email Monetization
Email marketing is not a new thing. Neither is selling ad space in email newsletters. There has, however, been a need to bring all the power and tools of CPM advertising with robust campaign management to the email world. UpRival Ad Server is a great monetization tool for email publishers who can use their subscriber lists to generate ad revenue.
Email Ad Servers – The New Way of Email Marketing
Finally, advertisers can focus their marketing efforts directly into recipients' mailboxes. Ad delivery via an email ad server platform provides custom and targeted ads to reach a specific audience or active directory group. It also provides marketers with valuable metrics in order to track ad performance and advertising spend.
Similar to Google's DoubleClick for Publishers (DFP) platform, an email ad server allows advertisers to create creatives that are then distributed to targeted users through programmatic advertising.
What is an email ad?
An email ad is the digital equivalent of traditional advertisements like the ones you find in newspapers and magazines. It is a form of a display ad and a powerful way for publishers to monetize their emails. Advertisers can also benefit from email ads by purchasing ad space in publishers' newsletters, similar to how they would purchase ad space on a website or in an app.
That means that the adverts get delivered directly to recipients' inboxes. In the past, negotiations between publishers and advertisers were time-consuming, with plenty of back-and-forth emails to negotiate rates, placement, and design. Then there were endless discussions on tagging and tracking, gathering and reporting data – all of which had to be done manually.
Enter the email ad server – ad exchange platforms that automated many of the processes both on the publisher and advertiser's ends.
What is an email ad server?
An email ad server is a kind of advertising technology (AdTech) related to ad servers. It is a dedicated system that serves digital ads directly to emails in recipient's inboxes. That means, instead of manually adding a specific ad to a specific email – and sending it to all your recipients, you can harness the automation that an ad server provides.
The result is that you can send highly targeted ads to specific recipients through an automated process – streamlining things on the publisher's side while meeting the advertiser's marketing needs.
In order to understand how an email ad server works, we need first to understand how an ad server works.
An ad server (like Google Ad Manager) is a centralized point for publishers, advertisers, ad networks, and ad agencies to manage digital adverts. Ads get loaded to the ad server. The ad server then selects which ad to display where and when and then serves the ad to the appropriate place.
Besides deciding which ad to serve where and when, an ad server also collects data, generates reports, and provides these reports to advertisers. From these reports, advertisers can then make informed decisions on their marketing strategies.
An ad server is essentially an ad decision engine. It decides which ad to display in which email, to which recipient at what time. These decisions are based on business rules and stipulations that the publisher set to meet their advertisers' marketing goals.
The ad server creates a database of all the ads that could be displayed. It then selects which ad to display to who and when based on specific rules. These rules include factors such as who to target and how many ads should be displayed over a specific period of time to reach the maximum number of recipients while accommodating the advertiser's budget.
First-party Ad Servers Versus Third-party Ad Servers
The difference between a first-party and third-party ad server lies in who uses it. Publishers use first-party ad servers. It enables publishers to manage their ad spaces throughout various platforms like websites, mobile apps, and emails. The first-party server decides which ad code should be served where. Simply put: a first-party ad server manages and serves ads from different advertisers.
A first-party ad server works by following these steps:
1. A user visits a website. At this stage, the user's browser requests information from the publisher's server to display the website content.
2. The publisher's server provides the content (usually HTML) so that the website can be displayed in the user's browser.
3. If the website has space for targeted ads, a request is sent to the publisher's ad server to obtain an ad to display in the dedicated ad space.
4. The publisher's ad server selects which ad to display to each specific user based on that user's information.
5. The publisher's ad server sends the JavaScript tag for the ad to be displayed to the website where the visitor can see it.
On the other side, a third-party ad server is used by advertisers to manage their different ad publishing avenues through which they run their advertising campaigns. The 3rd party ad server allows marketers to track the metrics of their campaigns across various marketing channels. This enables them to see how well a campaign does.
A third-party ad server follows these steps:
1. A user visits a website. At this stage, the user's browser requests information from the publisher's web server in order to display the website content.
2. The publisher's web server provides the content (usually HTML) so that the website can be displayed in the user's browser.
3. If the website has an ad unit (space for targeted ads), a request is sent to the publisher's ad server to obtain an ad to display in the dedicated ad space.
4. The publisher's ad server works through its ad inventory. It selects which ad to display to each specific user based on information gathered about that user.
5. The publisher's ad server sends the ad markup to the user's browser. This markup is a code that contains a URL that points back to the advertiser's ad server.
6. The ad markup then sends a request to the advertiser's ad server to get the ad markup (code). This counts as an impression.
7. The advertiser's ad server sends the markup to the publisher's website, and the ad is displayed to the user.
Ads served through an email ad server work similarly. When an email is opened, an ad request is sent to the email ad server. The email ad server receives the request along with additional user data. The email ad server processes and interoperates the information and selects the best creative to display to the user. The email ad server then delivers the targeted ad to the user's email.
Hosted and Self-hosted Ad Servers
A hosted ad server is a server that is run and maintained by an ad server company (like UpRival). The ad server company hosts the server so that the user does not have to. Hosted servers are user friendly and easy to use without needing to have advanced technical knowledge. The companies that host ad servers provide user support and maintain and monitor their servers to give their clients and users the best service.
A self-hosted ad server is installed and maintained by the user. Self-hosted ad servers offer more customization options, and the user is in complete control of the data. Users are responsible for installation, maintenance, and updates to the server, which requires advanced technical knowledge.
Why Use an Email Ad Server for Email Ads
An email ad server does what a traditional ad server does – but instead of delivering a targeted ad to a website or app, it gets delivered directly into recipients' inboxes. There are a number of benefits to using an ad server to deploy your ads.
Email ad servers are dedicated to tracking the performance of your email ads. The metrics that they gather can be used to optimize your campaigns and targeting efforts. It also ensures that the ad server is held accountable in terms of which publishers and traffic sources they use.
A third-party ad server makes A/B testing (or split testing) easy. They are also continually harnessing machine learning and artificial intelligence to enable you to optimize your marketing efforts even further.
Your business can create and deploy multiple ads on an email ad server that they then deploy via their ad network. This means that you can reach a vast number of consumers whom you might not have had access to previously.
Things to Consider When Incorporating Ads Into Emails Versus on a Website
Ads served through an email ad server have some restrictions and limitations compared to ads served to websites or apps.
Caching and your metrics.
The first issue comes in with caching. An email client (like Google) can see when you send the same image to multiple recipients. Instead of retrieving the image from your server every time, the email client hosts the image on their own servers to speed up the delivery of emails. While this means that email gets delivered quicker, it also means that you could get back inaccurate information on the number of impressions each ad gets.
Say you send an email to 20 000 recipients, and one specific ad is displayed to 12 000 of those recipients (because they meet your targeting criteria). Caching could cause only 1 00 impressions to reflect. This number is based on the number of times the ad/image is cached on an email client's server – not the actual number of times the ad was served. This makes it challenging to track ad impressions.
Some mail clients or mail servers also engage in proxying. For example, Google uses their own IP address to call to images instead of using the recipient's IP address. Most email ad server programs use an individual's IP address to record email ad impressions. Thus, proxying has the same outcome on impressions as caching does. To circumvent this, email ad server software assigns a unique code or custom value to each recipient. MailChimp uses a similar strategy by using the *|UNIQID|* merge tag to generate a unique string for each user.
This can be done by adding an A tag with a link to serve the ad image into the script. The link then includes a merge tag with a unique identifier. When this is added to the URL, it creates a unique link each time and shows up as a unique image source.
In UpRival's email ad server dashboard (accessed via a user account), advertisers will create their campaigns. Marketers can create placements in emails, and it is within these placements that ads will be located. Each placement has a unique ad tag, and each tag will have a unique ID to prevent caching.
Adding this unique identifier also enables you to conduct split testing or A/B testing to see which creative performs better.
Static images work best.
Some email clients' rendering engines often block emails that contain JavaScript, iFrames, Flash, Animated GIFs, rich media, video ads, and other elements. It is possible still to use these elements as part of your email ads. However, you might want to consider sticking to static images when running an ad campaign through an email ad server. Native ads like banners are the best ad formats for email ads.
The emergence of email ad servers is a revolutionary way for publishers to monetize their subscriber lists. It is also a valuable marketing tool for advertisers who want to deliver their marketing efforts directly into recipients' email inboxes. Using an email ad server automates marketing efforts and streamlines the exchange between advertiser and publisher. It enables advertisers to conduct direct digital marketing to niche markets and reach individuals who might have been outside their reach otherwise.